Aqua-Mart, Inc.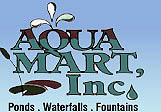 Pond Supplies at Affordable Prices

Location: Orlando, Florida, USA.

Address:
P.O. Box 547399

Phone Number: 1-800-245-5814

E-mail: aquamart@earthlink.net

Web site: http://www.aqua-mart.com

This store sells watergarden dry good supplies, liners, pumps, pond ornaments and garden decorations, fish, other animals, and pond plants.

Aqua-Mart is your complete source for affordable pond supplies and aquatic plants. We are proud to announce that 2006 marks our 10th year in business! We have a large selection of water gardening products and aquatic plants. Most orders ship within 24-48 hours. Prices are discounted off of retail. We have a knowledgeable staff to assist with ordering. Please visit our website for on-line specials. No sales tax for orders shipped out-side of Florida.

Last Updated: 8/6/06.

Copyright © Jeff Gimbel 2006.